Wizards!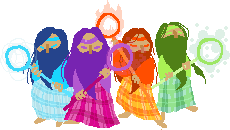 This game is currently in development.

Wizards! is a dual stick shooter for 1 to 4 players inspired by the arcade classic Robotron 2084. While on the surface it may seem that players cooperate to defeat endless waves of undead monsters, they also simultaneously compete against each other in a race to collect the most bones and skulls for points.
How to Play

Add a credit for each player that wants to play then press the 1-4 key to begin a game with that number of players. Each player starts with 3 lives. Additional lives are added every 25000 points. Points are not awarded for destroying an enemy. Rather, to earn points players must collect the bones and skulls that drop when they destroy an enemy.

The game advances by hurling waves of enemies at the player(s). Each successive wave composition is unique with the difficulty of each enemy incrementally increasing. So long as at least one player remains alive to defeat all the enemies in a wave, players with remaining lives may continue to play. If a player runs out of lives they may add another credit for an additional 3 lives but their score will be reset to zero if they do so.
Controls

Move - Left Stick
Shoot - Right Stick
Add Credit - Space Bar
Start - 1 thru 4 key on your keyboard
Special Note: Game Pad Controllers are required to play the game.
History

Wizards! is a game that I originally began working on in 2014 but then shelved to work on Super Rock Blasters! and another unreleased game called Threshold. The original concept of the game was very similar in design but differed in it's approach to scoring. I also dropped an idea where each Wizard would have a unique ability that they could use to defeat enemies but it would use up some resource that was gathered.
Arcade Cabinet
Wizards! is currently being designed with the idea that it will be released for play on a classic style arcade cabinet. More info about this version of the game will be posted when it becomes available. Stay tuned!
Special Credits
Original Pixel Art created by Mila Pokorny